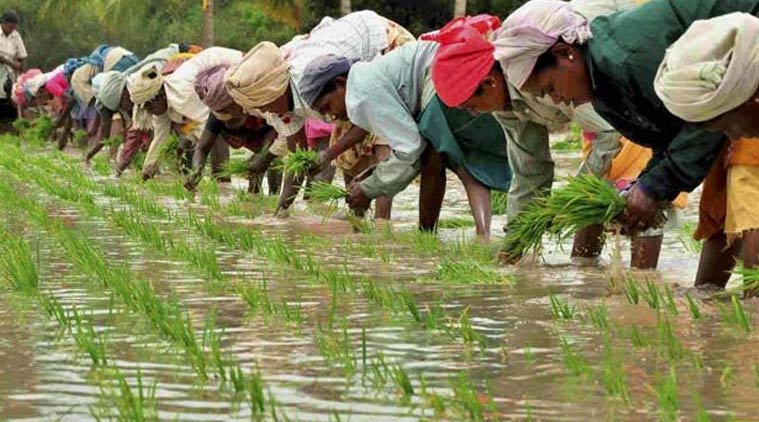 By Andy Nssien
A total of N499.22 million was guaranteed to 4,172 farmers under the Agricultural Credit Guarantee Scheme (ACGS) in August 2018.
The amount represented a respective increase of 32.9 per cent and 7.8 per cent above the levels at end-July, 2018 and the corresponding period of 2017, according to  the August Economic Report of the Central Bank of Nigeria.
 Sub-sectoral analysis showed that food crop obtained the largest share of N318.50 million (63.8 per cent), guaranteed to 3,345 beneficiaries; livestock got N63.35 million (12.7 per cent), guaranteed to 242 beneficiaries; fisheries sub-sector received N62.92 million (12.6 per cent), guaranteed to 272 beneficiaries; cash crop got N40.54 million (8.12 per cent), guaranteed to 245 beneficiaries.
Others received N11.63 million (2.3 per cent), guaranteed to 52 beneficiaries, while the mixed crops sub-sector got N2.30 million (0.5 per cent), guaranteed to 16 beneficiaries.
 Analysis by state showed that 29 states and the Federal Capital Territory benefited from the Scheme. The highest and lowest sums of N74.2 million (14.9 per cent) and N0.4 million (0.1 per cent) were guaranteed to Edo and Bayelsa States, respectively.
Also in the same report, total non-oil export earnings, at US$480.56 million, fell by 13.1 per cent below the level in the preceding month, but showed an increase of 112.8 per cent above the level in the corresponding period of 2017.
The development reflected, the respective decline of 31.9 per cent, 0.8 per cent and 30.3 per cent in the proceeds from manufacturing, food and minerals products subsectors, respectively, to US$261.66 million, US$41.19 million and US$9.28 million in August, 2018.
Export proceeds from industrial and agricultural sub-sectors, however, rose by 21.4 and 67.5 per cent, respectively, above the levels in the preceding month.
The shares of the various sectors in non-oil export proceeds were: minerals, 35.7 per cent; agricultural products, 24.9 per cent; manufactured products, 20.4 per cent; industrial sector, 16.5 per cent; and food products, 2.5 per cent, the report added.