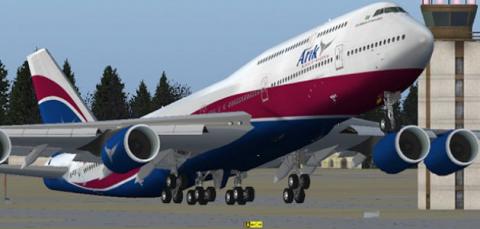 Arik Air, West and Central Africa's largest airline, has sponsored round-trip tickets from Lagos, Nigeria to New York, USA for conjoined twins. Miracle and Testimony Ayeni arrived yesterday to have immediate access to urgent medical surgery and care.
In partnership with Linking Hands Foundation, a Nigerian-based non-governmental organization (NGO), Arik Air is offering additional support alongside Le Bonheur Children's Hospital, Tennessee, which is providing secured free medical treatment for the Ayeni twins.
"Arik Air is an active partner committed to the community, and we are proud that our support will enable the Ayeni twins access to specialized medical care and provide them an opportunity for a healthy and bright future," said Robert Brunner, Vice President The Americas, Arik Air.
Miracle and Testimony Ayeni were born on 16th November, 2015, at St. Patrick Hospital Enugu, to Mr Samuel Olusegun Ayeni and Mrs Mary Abiodun Ayeni,of Kogi State, Nigeria. The twin girls who are conjoined in the pelvic region, were taken to The University of Nigeria Teaching Hospital (UNTH), Enugu immediately after delivery. They were moved to Lagos State University Teaching Hospital (LASUTH) and have been under constant medical supervision since they were born.
"We are grateful to Arik Air for linking hands with us to give Miracle and Testimony Ayeni the opportunity to have individual lives. Through this invaluable support, Arik Air has given the twins a chance to live and yet again demonstrated leadership in corporate social responsibility," said Efe Farinre Founder, Linking Hands Foundation.
In 2016 Arik Air has supported a variety of community initiatives including medical missions by the Association of Nigerian Physicians, African Women's Cancer Awareness Association and Mbano National Assembly.